Many have asked that I keep them up-to-date during my trip and send some pictures. This will not be a detailed daily log, but rather a collection of short postcard-style photos and stories.
The first flight of many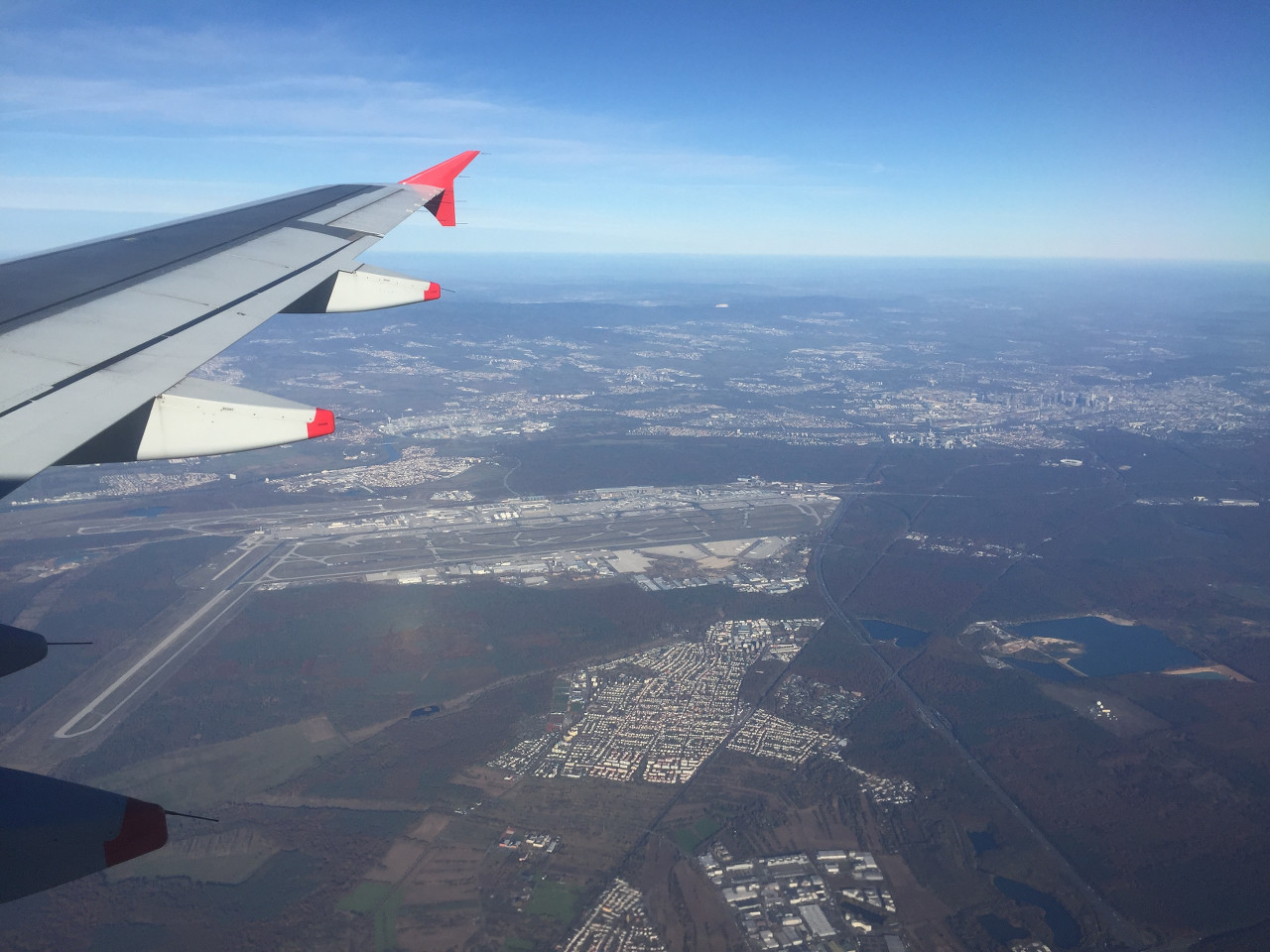 My first flight segment took me to Frankfurt. I have spent a lot of time there during the past two years. The weather that day was wonderful - the photo shows the airport and the town. I met a couple of friends in Frankfurt before continuing to my next destination…
Shanghai

My next destination was Shanghai where I spent three days. I had visited China before - Beijing and Hong Kong, but not Shanghai. Shanghai seemed a lot more business-oriented than Beijing, but not as busy as Hong Kong - a good combination I think. Although there are a lot of subways, the stations are quite far from one another. There is a lot of road traffic as well. I mostly went by foot to explore the city.
Shanghai is split by the river Huangpu. The Pudong/Lujiazui-side (in the center of the picture) is the newer part with many skyscrapers and has a lot of luxury malls. You can buy fancy coffee and smoothies everywhere but I found it difficult to locate a basic fast food restaurant there. The other side of the river (Puxi, where the photo was taken from) is the older part of the city. There are some old buildings that can be visited and many museums. I especially liked the Xintiandi district which seemed to be filled with small and modern stores within old buildings.
---
Paihia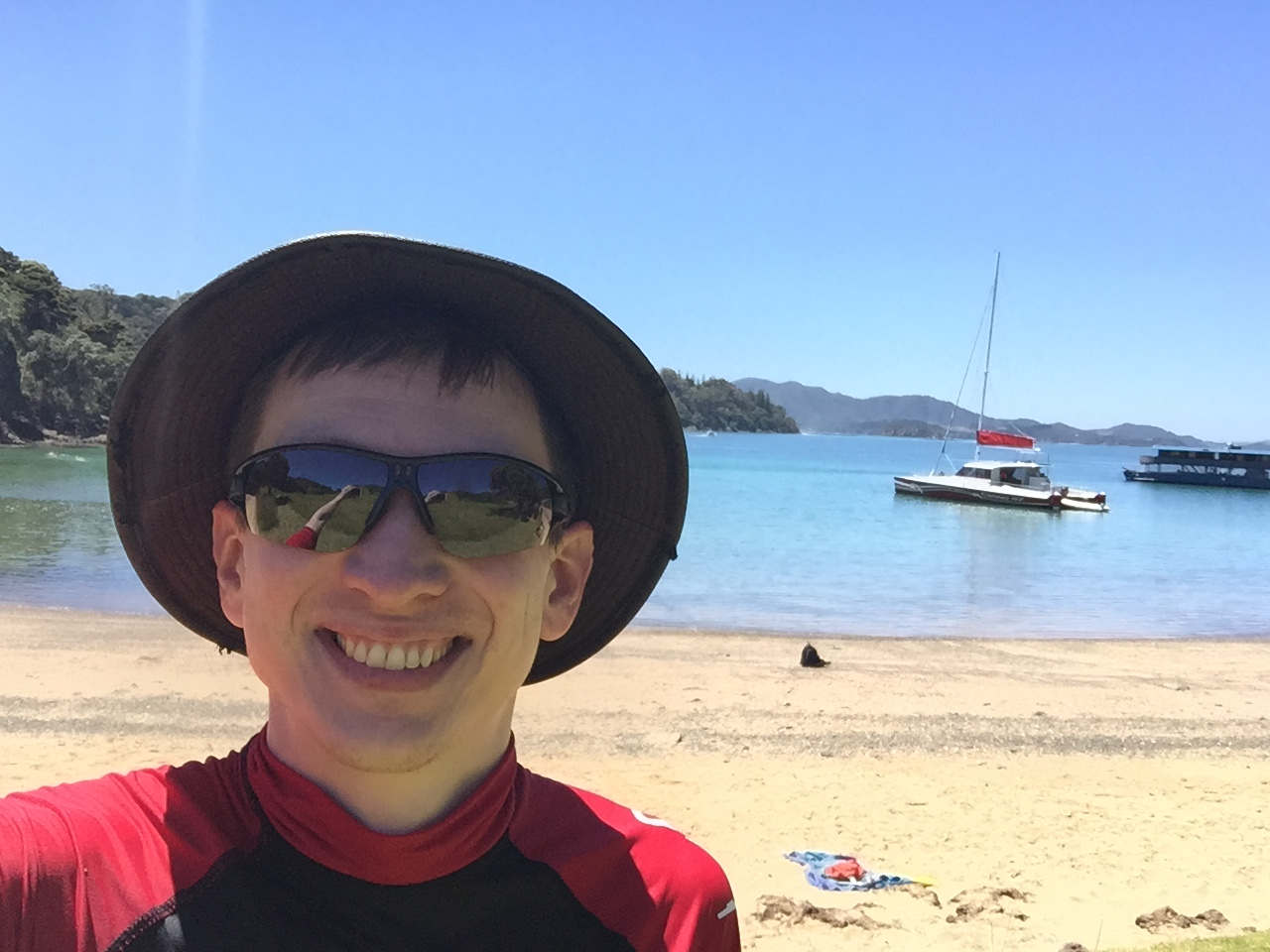 My next stop: the Northland of New Zealand - sailing and swimming in the Bay of Islands of the Pacific Ocean near the town of Paihia. The water was fresh at 16 C, but the sun was very strong on that hot day. Luckily I did not get any sunburn.
Hobbiton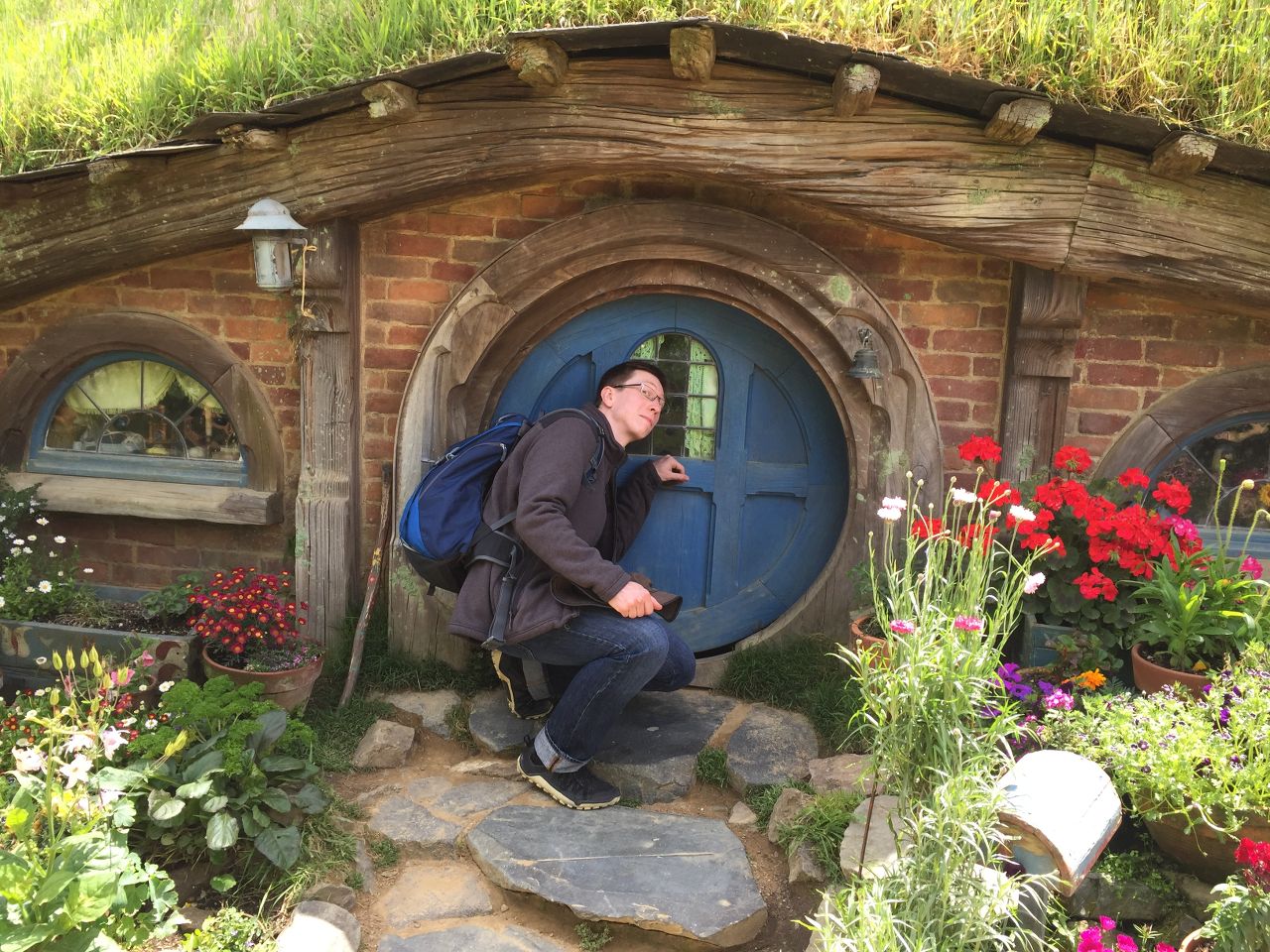 In the central North Island of New Zealand lives a group of short people called the Hobbits. They live in small earth holes like this one in their village near Matamata. It was an amazing experience to visit them.
Wai-O-Tapu
As you might know, New Zealand is a region of active volcanoes and experiences earthquakes from time to time. At Wai-O-Tapu material from the lower layers of the earth is pushed to the surface resulting in hot geysirs as well as ponds and rocks in different colors due to minerals and chemical reactions.
Wellington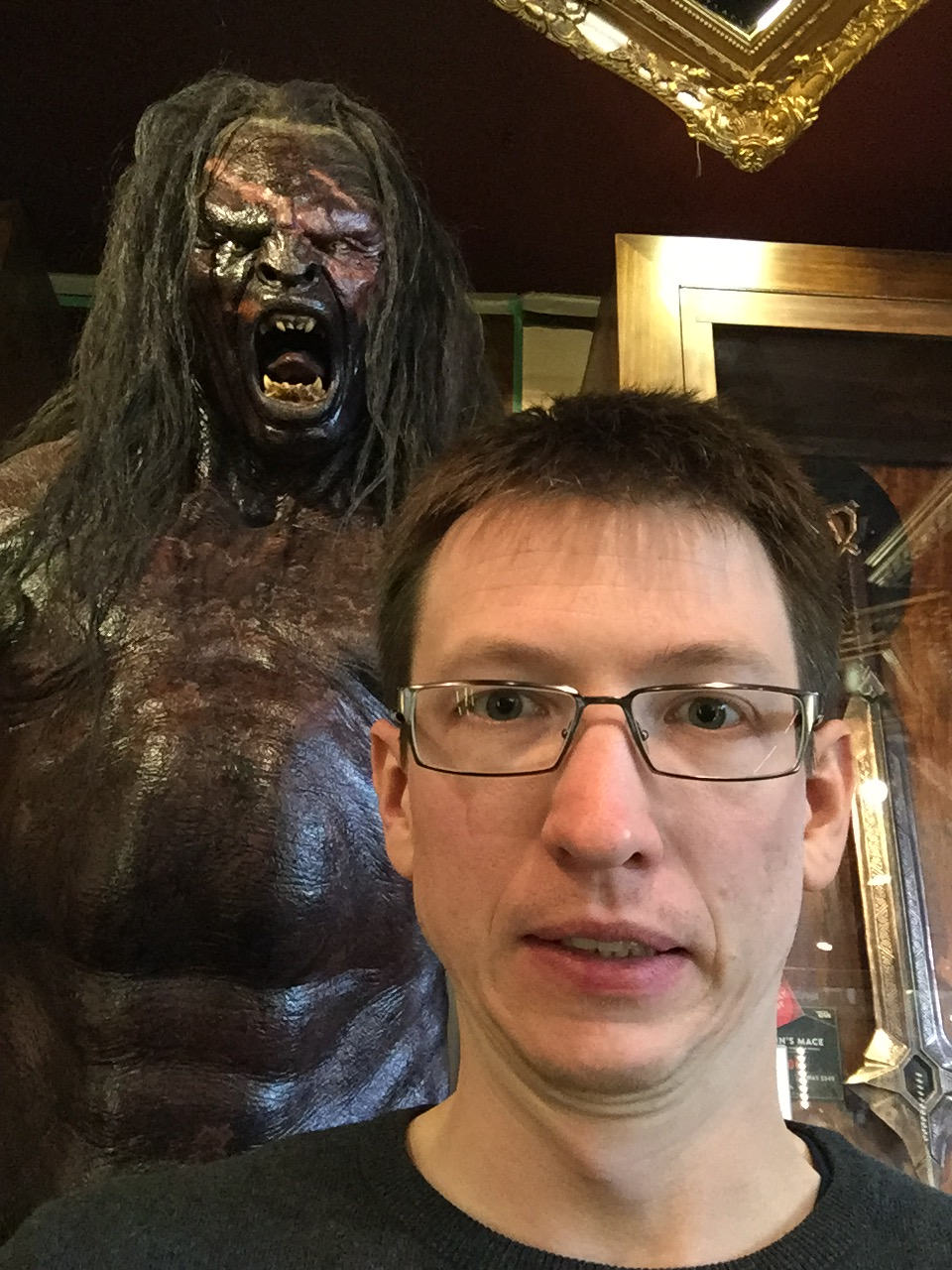 The visit to the Weta special effects company in Wellington was another highlight of my trip. They created the costumes, props and special effects for movies such as "The Lord of the Rings", "The Hobbit", "Avatar" and "District 9". Creating great effects requires hundreds of people working for many months. It was very interesting to get a glimpse of how it is done.
---
The North of the South Island
After Wellington I took the ferry to New Zealand's South Island. In Picton I went swimming with Dolphins in the open sea which was an awesome experience. Unfortunately there are no photos of it.
The next day I visited the Abel Tasman National Park (shown above) - a large stretch of rain forest along the coast home to seals and penguins. Ideal for hiking and other sports. I took a boat to one of the beaches in the park and walked back to the starting point in a nice four-hour walk.
I continued my trip along the west coast of the island as the roads on the east coast were blocked due to recent earthquakes.
Pancake Rocks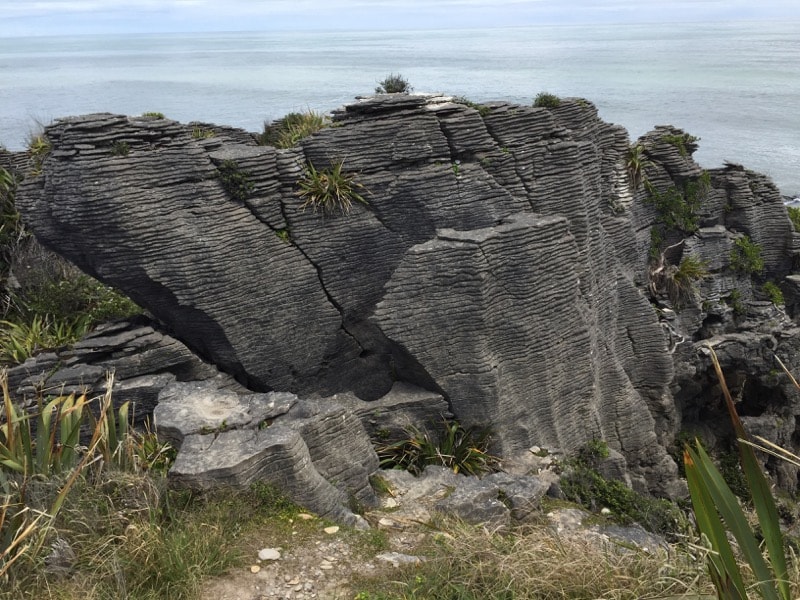 At the west coast you can find the interesting Pancake Rocks. Nobody knows for sure why the limestone in this area was formed in this way.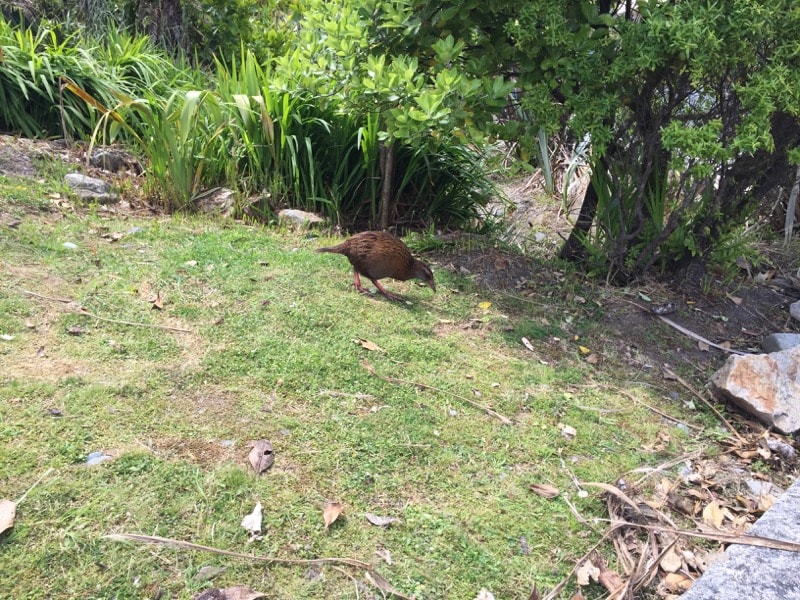 At the Pancake Rocks carpark I also met some Wekas - indigenous flightless birds that are relatives of the endangered Kiwi.
Once upon a time many more Wekas and Kiwis lived in New Zealand. Europeans brought the rabbits to New Zealand which had no natural enemies there. To control the rabbit population they introduced the stoats. However, the stoats were not stupid - they decided not to hunt for the fast rabbits and instead started eating helpless Kiwi eggs and Kiwi chicks. Throughout New Zealand huge efforts are made to get the stoats (and other European animals that kill the indigenuous wildlife) under control.
Franz Josef Glacier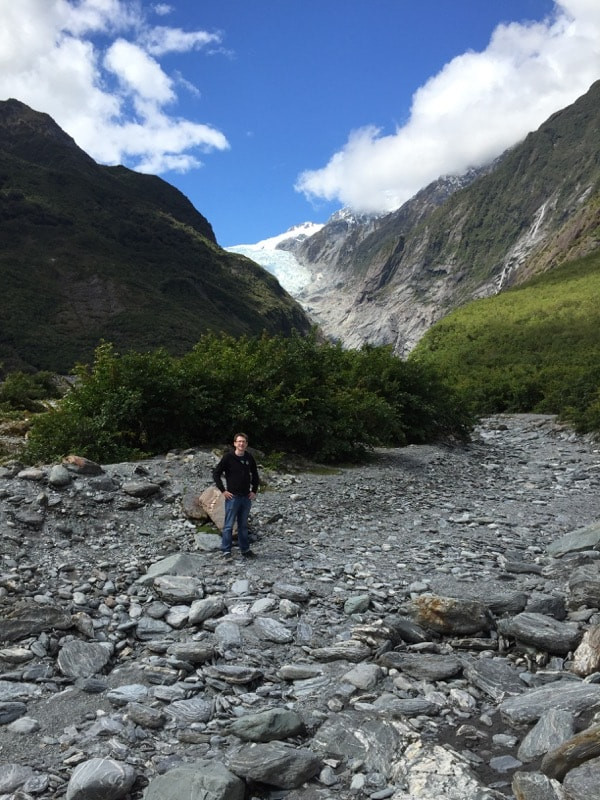 This beautiful glacier was named after Austria's favorite emperor. I found it quite different from glaciers in Europe because it was surrounded by tropical forest which provides an interesting landscape. Unfortunately it is not possible to hike up the mountains and see the glacier from above.
---
Wanaka

Next on my route was Wanaka, a town located next to the lake of the same name. New Zealand's landscapes are breathtaking, especially in this area with lakes, grasslands and distant snow-covered mountains.
Waterfalls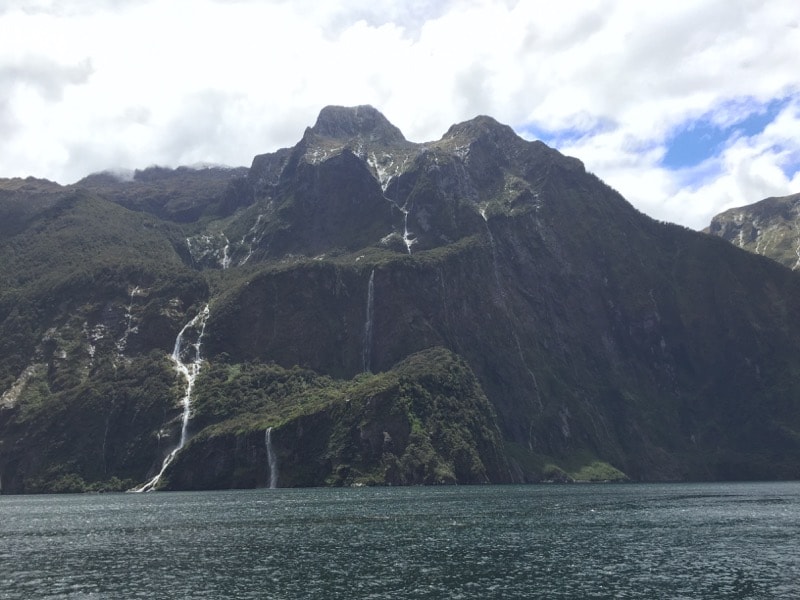 Milford Sound is a fjord at the south-western coast of New Zealand. It receives 7-12 meters (!) of rain every year which results in many beautiful waterfalls.
End of the road
After four weeks and about 4.000km of driving I reached the southern-most point of New Zealand's South Island. In the middle of nowhere, surrounded by sheep, about 18.000km from home is where I turn around and start my long trip back.
---
Singapore

On my trip home I stopped in Singapore for a few days. I experienced it as a huge and interesting city filled with many different cultures and food from all over Asia. The Singaporians seem to have a very pragmatic approach to problem solving and everything here seems to run incredibly smooth.
The End
I have now safely arrived home in time for Christmas. Thanks for joining me on this trip through the world! I do hope you enjoyed this small travelblog. If you have questions about the trip or are looking for recommendations on the destinations, feel free to contact me.